The Netgate XG-1541 1U  Security Gateway Appliance is an excellent solution for medium to large business to provide flexible configuration and support for multi-WAN, high availability, VPN, load balancing, reporting and monitoring, etc. With preloaded pfSense+ software, the XG-1541 1U is a fast networking security solution unencumbered by traditional annual contracts, licensing fees, or artificial limitations. It can be configured as a firewall, LAN or WAN router, VPN appliance, DHCP Server, DNS Server, and IDS/IPS with optional packages to deliver a high performance, high throughput front-line security appliance.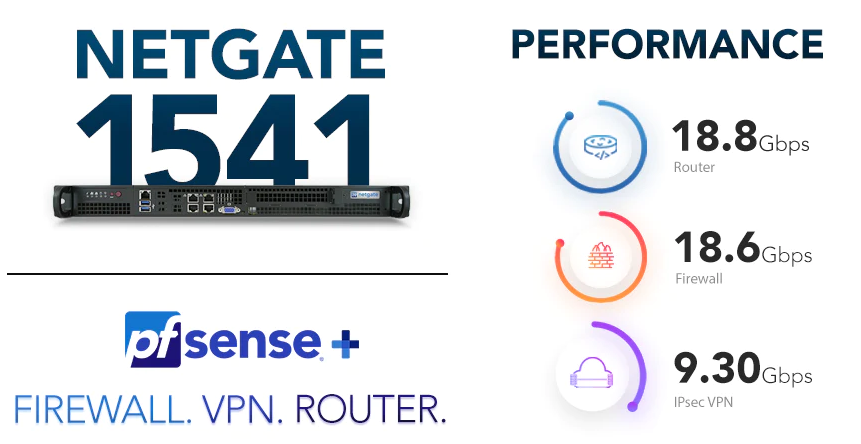 Easy to use
Pre-loaded with pfSense+ software, ready to use right out of the box.
1U form-factor to conserve rack space with a High Availability option available.
Easy GUI management. Manage pfSense+ settings through our web-based GUI.


Low total cost of ownership
No artificial limits or add-ons required to make your system fully functional.
No additional usage or feature based pricing. No preset limits on users, firewall rules, or IPsec tunnels.
Low power requirements to save money and be more eco-friendly.


Grows with you
Flexible configuration and support for VPN, load balancing, reporting and monitoring.
Simple package management system to add powerful functions and features.


Secure remote access
Connect via encrypted Virtual Private Networks (VPN) between offices, let mobile workers connect securely, or connect to the Cloud!
Use the built-in Amazon VPC Wizard to easily establish VPN connections with Amazon EC2 cloud instances.


Common use cases
Medium to Large Sized Networks with 1U rack mount cabinets
Medium to Large Sized Branch Office with heavy loads
Managed Service Providers (MSP) / Managed Security Service Provider (MSSP) On-Premises Appliance
High-Speed 10 Gigabit Connections
Multiple VPN Connections
High speed connections with IDS/IPS functionality

Software Features
pfSense+ software is a leading open source firewall and router distribution based on FreeBSD that is functionally competitive with expensive, proprietary commercial firewalls. pfSense+ software-based appliances can be configured as a stateful packet filtering firewall, a LAN or WAN router, VPN Appliance, DHCP Server, DNS Server, or can be configured for other applications and special purpose appliances. This next generation pfSense+ security appliance features include:
Stateful packet filtering firewall or pure router
IDS/IPS : Intrusion Detection & Prevention, autosense
Routing policy per gateway and per-rule for failover and load balancing
Transparent layer 2 firewall
Support for IPV6, NAT, BGP
Captive portal with MAC filtering, RADIUS support, etc
VPN: IPsec, OpenVPN, L2TP
Dynamic DNS client
Reporting and monitoring features with real time information
Technical Specifications
CPU
Intel "Xeon-DE" D-1541, 2.1 GHz FCBGA 1667 supported SoC
CPU Cores
8
Memory Options
16GB DDR4 RDIMM
Storage Options
256GB 
2 x 256GB RAID 1
Network Interfaces
Dual LAN via Intel® i350-AM2 1 Gigabit Ethernet
Dual LAN via SoC 10GBase-T
Virtual Machine Device Queues reduce I/O overhead
Supports 10GBASE-T, 100BASE-TX, and 1000BASE-T, RJ45 output
1x Realtek RTL8201N PHY (dedicated IPMI)
Network Expansion Options
4-Port Intel GbE
2-port Chelsio SFP+ Expansion
USB Ports
2x 3.0 ports
Console Port
VGA
Max Active Connections
16 Million
Power
200W Internal Power Supply, 100~240V, 50-60Hz, 2.6 Amp Max
Case
Standard 19" 1U rack mount
Dimensions
17.2" (437mm) x 1.7" (43mm) x 9.85" (250mm)
Cooling
Active
Operating Temperature
10°C to 35°C
Hardware Warranty
12 months
Certifications
CE Emission, FCC, RoHS, UL
Power Consumption
20W (idle)
Support Options
Professional, Enterprise, and Enterprise Plus