TrueCommand® Overview
TrueCommand expands on the ease of use and power of TrueNAS systems with multi-system management. The powerful yet intuitive interface provides the following features:
Storage Fleet Dashboard
Single Sign-on to all TrueNAS Systems
TrueNAS SCALE Cluster Management
Customized Alerts and Reports
Rapid Fault Management and Diagnosis
Real-Time Data Collection and Analysis
Predictive Analytics to Maximize Uptime
Team-Based 24×7 Operations
Enterprise Security with Role-Based Access Control (RBAC) and Auditing
Manage Systems Locally or from the Cloud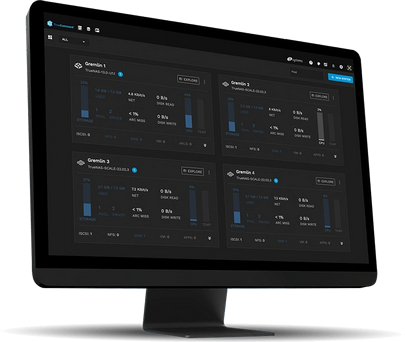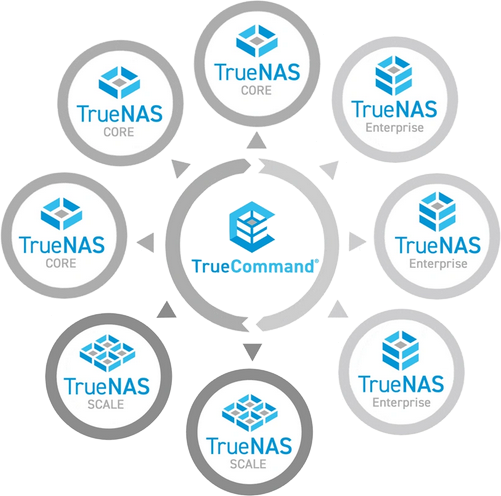 Simplified Operations
TrueCommand is a ZFS-aware solution allowing you to set custom alerts on statistics like ARC usage or pool capacity, ensuring storage uptime and future planning. TrueCommand also identifies and pinpoints errors on drives or vdevs (RAID groups), saving you valuable time when troubleshooting and resolving issues.
Read more about TrueCommand Whitepaper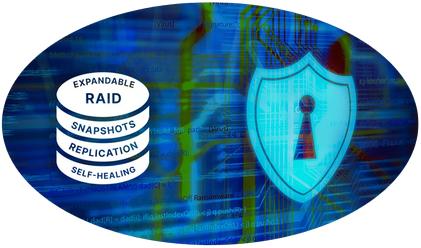 Use TrueCommand Cloud – Software as a Service
TrueCommand Cloud is a secure and easy-to-use cloud service. Each TrueCommand instance is in a private cloud and uses WireGuard VPN technology to secure communications with each NAS system and with each user or storage admin...
Subscriptions start at US$6 per month for 30 drives and are based on the number of drives.
Each TrueNAS must run TrueNAS 12.0+ or SCALE for the Wireguard VPN capability.
Subscribe and setup TrueCommand Cloud.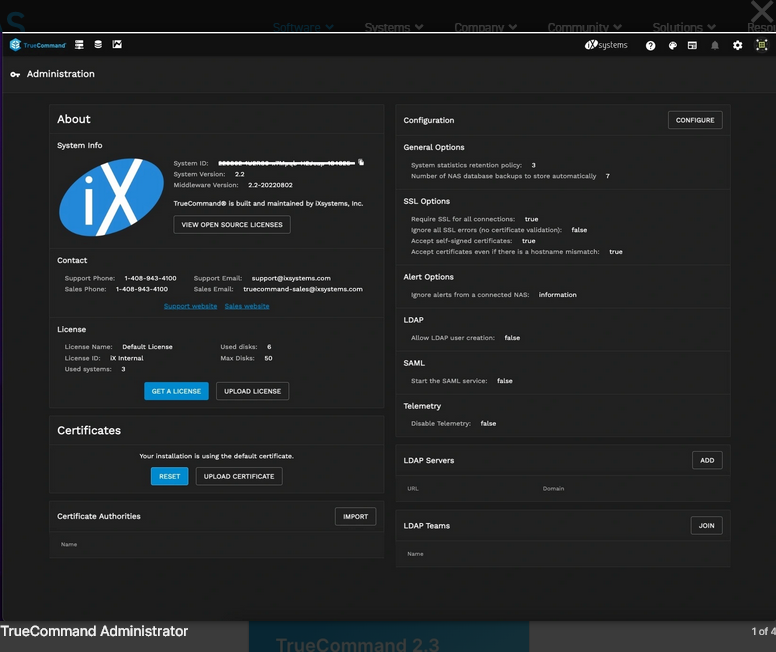 World's Most Popular Storage OS
Free and Open Source
Unified Storage Built on OpenZFS
Installs on Hardware or VMs
Community-Supported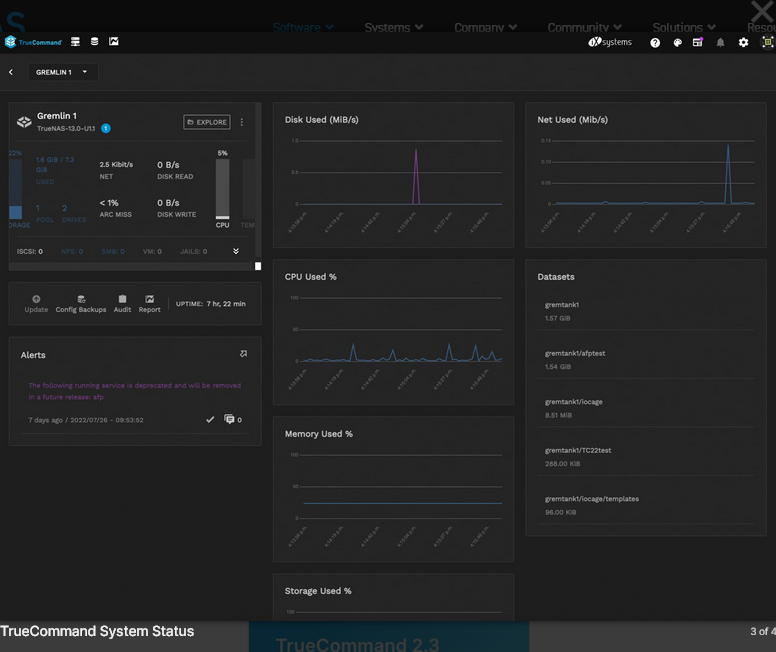 Combined Single & Multi-Node Edition
Scale-Out SAN/NAS/Object Software & Appliances
Linux Containers and VMs
128-Bit Open ZFS File System
Free To Download & Use
Community or Enterprise Support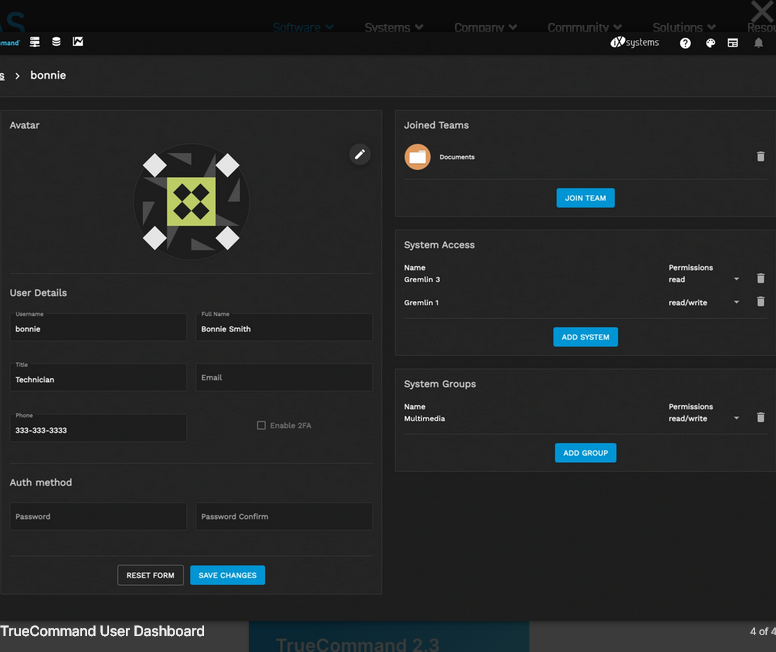 Combined Single & Multi-Node Edition
Scale-Out SAN/NAS/Object Software & Appliances
Linux Containers and VMs
128-Bit Open ZFS File System
Free To Download & Use
Community or Enterprise Support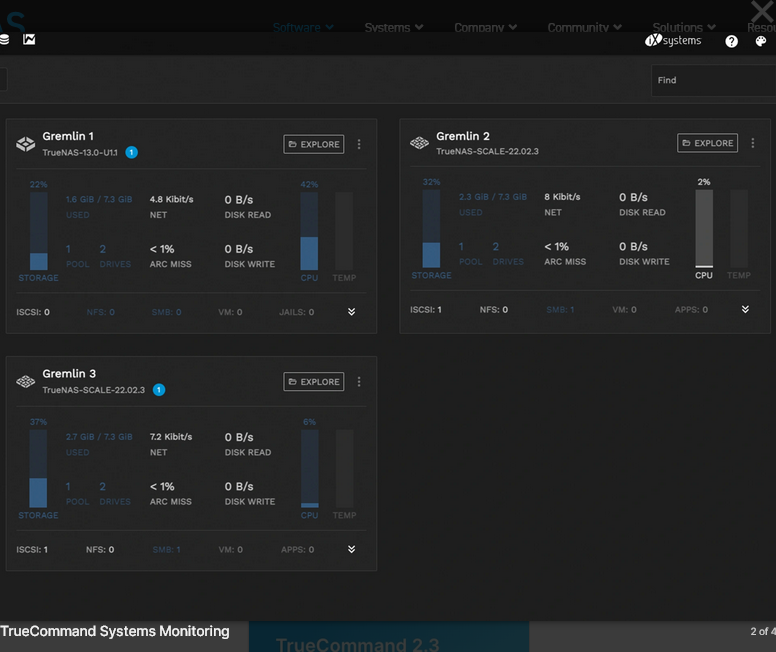 Single & Dual Node Edition
Scale-Up SAN/NAS/Object Storage Appliances
High Availability
128-Bit Open ZFS File System
Enterprise Reliability & Features
24×7 Professional Support
Read more about TrueCommand Datasheet