Netgate MBT-4220, Quad Core, The MinnowBoard Turbot Dual Ethernet system is a state of the art compact and affordable open source hardware platform that puts the power of a 64-bit Intel Atom into your hands. The system is perfect for DIY makers and developers who wish to explore a variety of uses including network appliances, firewalls, IoT and other embedded applications and products. It is compatible with a variety of open source operating systems including pfSense, OpenBSD, etc. OS support is available on MinnowBoard.org for Windows, Linux, Android, Wind River Linux and Yocto Project.
This system features a Quad Core Intel® Atom™ E3845 1.91 GHz CPU. The system includes 2GB RAM, a 32 GB M.2 SSD, SIM socket, USB & HDMI ports, as well as high speed and low speed MinnowBoard connectors for expansion using any MinnowBoard Lure.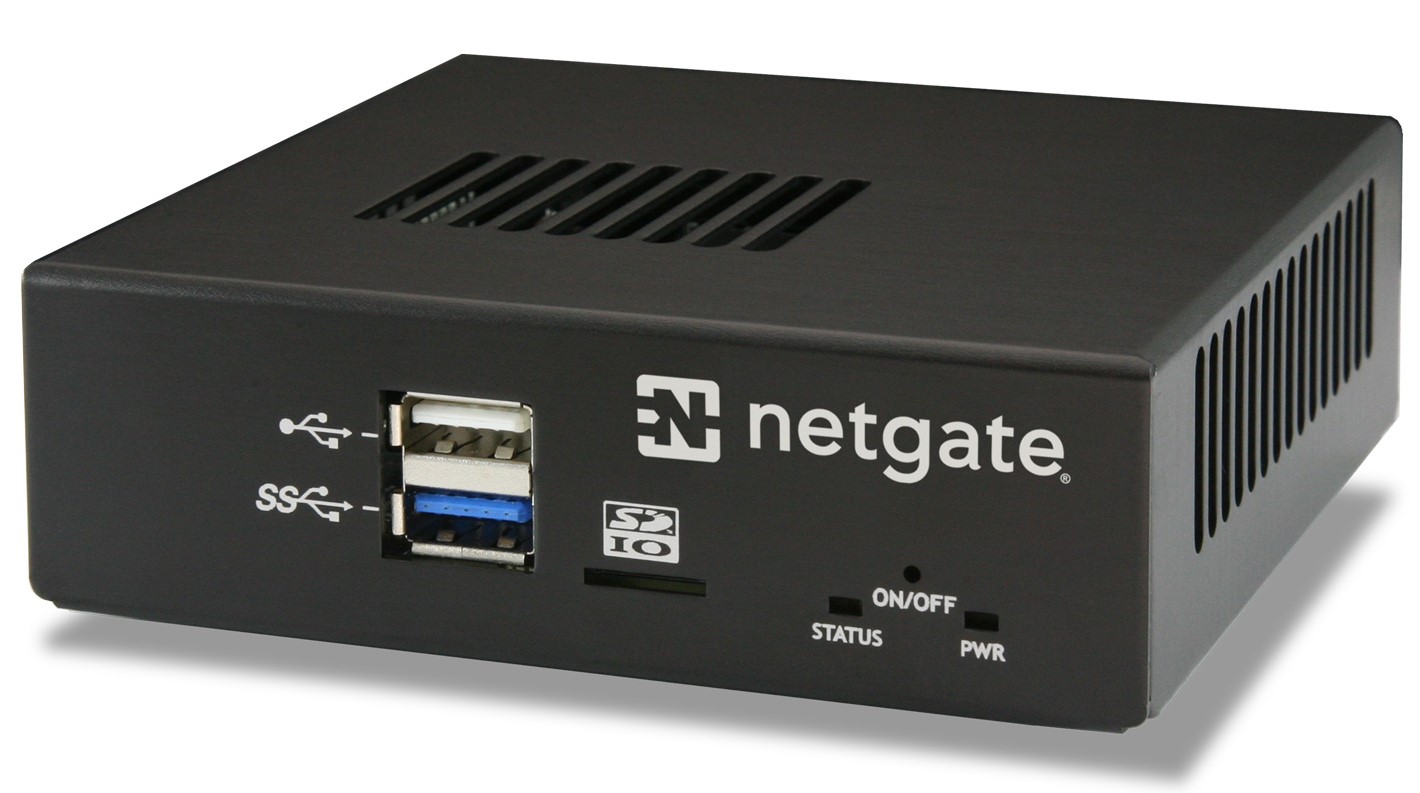 Easy to use
Pre-loaded with pfSense software, ready to use right out of the box.
Small form-factor, so it fits about anywhere.
Easy GUI management. Manage pfSense settings through our web-based GUI.


Low total cost of ownership
No artificial limits or add-ons required to make your system fully functional.
No additional usage or feature based pricing. No preset limits on users, firewall rules, or IPsec tunnels.
Low power requirements to save money and be more eco-friendly.


Grows with you
Flexible configuration and support for VPN, load balancing, reporting and monitoring.
Simple package management system to add powerful functions and features.


Secure remote access
Connect via encrypted Virtual Private Networks (VPN) between offices, let mobile workers connect securely, or connect to the Cloud!
Use the built-in Amazon VPC Wizard to easily establish VPN connections with Amazon EC2 cloud instances.


Common use cases
Managed Service Providers (MSP) / Managed Security Service Provider (MSSP)
On-Premises Appliance for SMB
SOHO, Small Networks, Small Branch Office, Remote Employees
Many VPN Connections, Outsourcing / Home Office Remote User VPN
IoT Security Endpoint
Commercial Applications
Network Tap
IPMI Port Firewall
VPN Endpoint
Software Features
pfSense software is a leading open source firewall and router distribution based on FreeBSD that is functionally competitive with expensive, proprietary commercial firewalls. pfSense software-based appliances can be configured as a stateful packet filtering firewall, a LAN or WAN router, VPN Appliance, DHCP Server, DNS Server, or can be configured for other applications and special purpose appliances. This next generation pfSense security appliance features include:
Stateful packet filtering firewall or pure router
Routing policy per gateway and per-rule for failover and load balancing
Transparent layer 2 firewall
Support for IPV6, NAT, BGP
Captive portal with MAC filtering, RADIUS support, etc
VPN: IPsec, OpenVPN, L2TP
Dynamic DNS client
Reporting and monitoring features with real time information


Technical Specifications
CPU
Intel® Atom™ E3845 (4 x 1.91 GHz, 1MB cache, AES-NI)
DRAM
2GB DDR3L 1067MT/s, Memory down (non expandable)
Networking
 2x 1Gb Ethernet RJ45, based on Intel i211
Storage
32GB M.2 SSD included (no OS)
 
1x MicroSD
I/O Connectors 
1x USB 2.0 host (Type-A)
 
1x USB 3.0 host (Type-A)
 
8x buffered GPIO
Expansion
Interface
MinnowBoard Max compatible Lure Interface
 
 Low-speed MinnowBoard Lure expansion connector
 
High-speed MinnowBoard Lure expansion header
Console
HDMI, serial via FTDI header
Boot Loader
TianoCore UEFI / CoreBoot / SeaBIOS
Battery
BR1225 or CR1225 RTC backup battery (included)
Temperature
Fanless / Passive cooling
Ambient operating temperature: 0-40 C
Storage -20 to 85 C
 Certifications
 FCC Part 15 Class A, CE Class A, IEC-60950, RoHS/WEEE
 Power
 5VDC, 5A via coaxial power jack (threaded locking connector)
Pre-Assembled System Includes:
USB key with pfSense CE 2.4.4 
MinnowBoard Turbot Dual Ethernet Dual Core Board
Anodized aluminum enclosure
32 GB M.2 SSD (no OS installed)
Power Supply
US style 3 prong power cord. Easily changed to non-US style by purchasing a IEC320-Cxx (3 PIN) compatible power cord (visual example).
Optional wall mount and DIN rail mount available.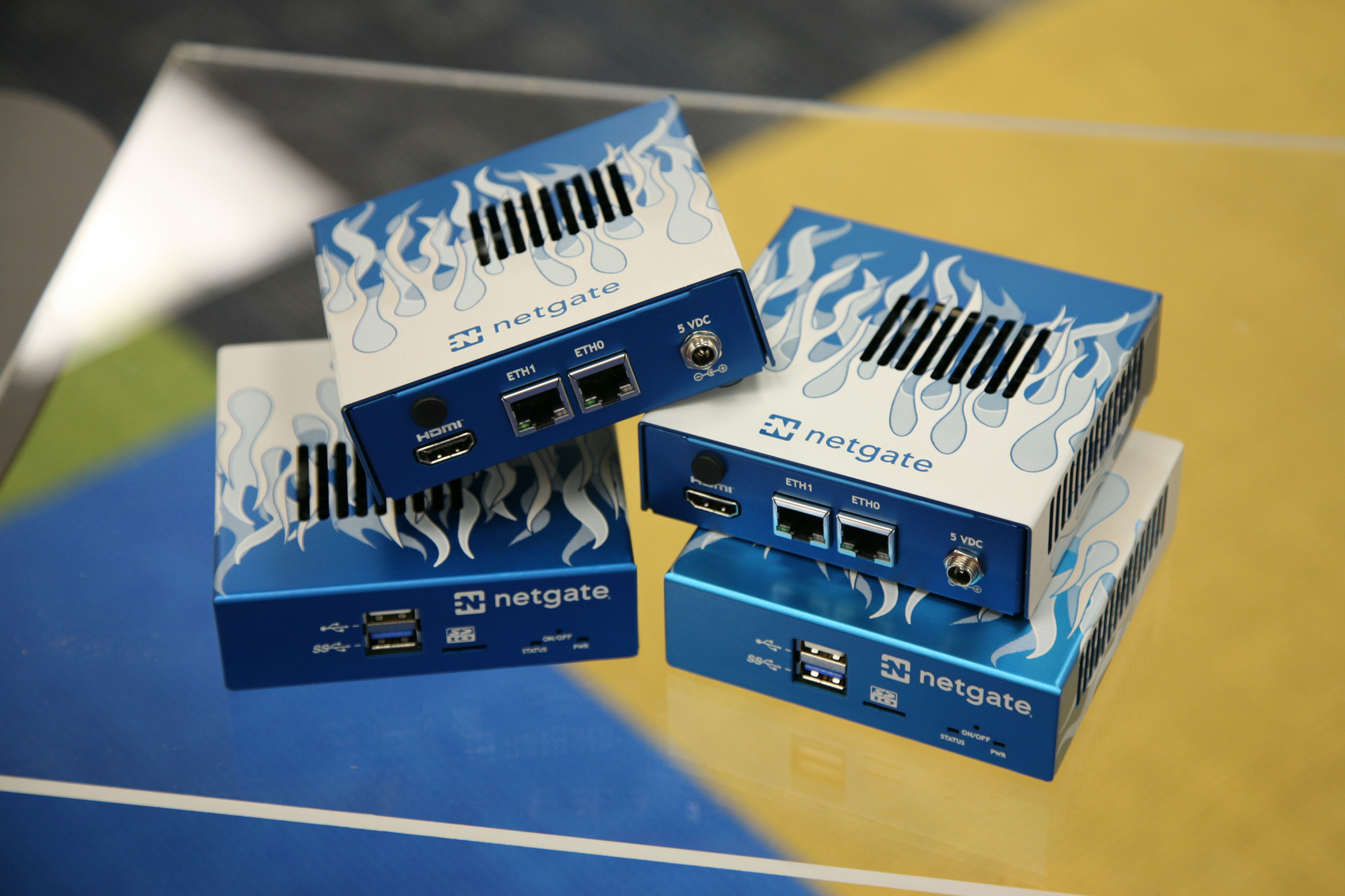 test